Get Kidney Stone Surgery with best care
Your lifelong, most reliable healthcare partner
Why opt for Kidney Stone Surgery at RJN Apollo Spectra Hospitals?
We are Specialist in
Laparoscopic Surgery
कोई नहीं चाहता कि उनके अंदर पथरी हो लेकिन क्या होगा अगर वो अचानक गुर्दे में बन जाएं ?
It is clear that you are suffering from a great deal of pain and we also understand that you want to receive treatment as soon as possible. There are many cases related to Kidney surgery that we handle these days, do not worry.
Is Kidney surgery Major surgery?
The procedure of a nephrectomy involves removing part or all of the kidneys. Located in the abdomen, the kidneys are two small, bean-shaped organs.
Kidney stones ( गुर्दे की पथरी ) are pebble-like formations that are actually deposits of minerals and salts that can form inside your kidneys and may travel to some other part of the urinary system. In medical terms, they are known as nephrolithiasis, urolithiasis, or simply renal calculi.
The urine contains many dissolved minerals such as calcium, oxalate, and uric acid. When these minerals increase, the urine gets concentrated, causing the minerals to crystallize and clump together. In addition to kidneys, stones can affect any part of the urinary tract, like the bladder, urethra, or ureters.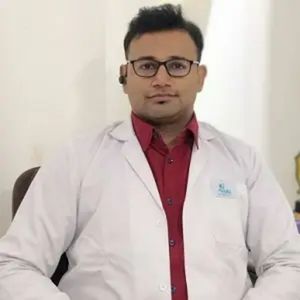 Specialty – Urology, Andrology, Renal Transplant Surgeon,  MBBS, MS, MCh  Experience : 5 Years
Specialty – Nephrology MBBS, MD, DNB ( Nephrology) Experience : 4 Years
Symptoms of Kidney Stone:
A feeling of intense need to urinate.
Urinating more often or a burning feeling during urination.
Urine that is dark or red due to blood. Sometimes urine has only small amounts of red blood cells that can't be seen with the naked eye.
Nausea and vomiting.
For men, you may feel pain at the tip of the penis.
Family History
High-Sodium Diet
Bowel Conditions
Obesity
Some Digestive Issues
Low Urine Volume
Diet
Bowel Conditions
Obesity
Precautions To Avoid Their Formation
The precautions and preventions of kidney stones include changing diet and taking certain medications while avoiding others. There is no specific diet that is perfect for every individual since everyone is different. Diet may not always be the cause of stone formation, but there are some dietary changes that can be made to prevent further stones from forming.
Try to take the following precautions:
Drinking enough amount of water and fluids
Eating fruits and vegetables
Avoiding excess use of salt
Eat foods that have low oxalate levels
Avoid frozen or canned foods
Limit the consumption of meat
Do not take calcium supplements without consulting a doctor
Do not try to control the urge to urinate. Urinate without significant delay.
1. Ayushman Bharat Yojana
2. Central Government Health Scheme
3. Police Health Protection Scheme

What our patients are saying about us
Stop Suffering & book an appointment now!
We know how to handle your pain and help you get recovered from problems like Gallbladder stones.
सभी प्रकार के TPA एवं बीमा (Insurance)
के साथ संभदता